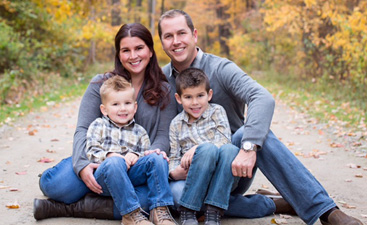 Brian J. Britt
D.D.S.
Dr. Britt is a graduate of the University of Toledo with a bachelors of biology and chemistry. He attended The University of Ohio State College of Dentistry. He takes great joy in creating a calming atmosphere in his office. He understands the natural "fear" that people have of visiting the dentist and goes to great lengths to ease that emotion.
Dr. Britt is well versed at all aspects of dentistry, including crowns, bridges, dentures, partial dentures, extractions, root canals, implants, cosmetic procedures, and selective periodontal procedures. Dr. Britt truly enjoys what he does and feels honored to take care of you and your families' dental needs.
Dr. Britt was born and raised on the westside of Cleveland where he currently resides with his wife Jennifer and two boys, Connor and Owen. He is an avid sports fan and loves all Cleveland sports teams, he is also a die hard Buckeye fan. He also enjoys spending time with his family and friends. In his free time, if the Buckeyes aren't on, he can be found chasing his boys around the yard.
<< Meet Our Team
From the minute you make your first call, you know it's going to be awesome. The staff is engaged and fantastic.
Very caring. Then comes Dr. Britt. He is beyond the best dentist I have ever been to.
He examined me, serenaded me, and gave a very manageable treatment plan. HIGHLY RECOMMENDED! — Janine S.
Dr. Britt is the best dentist I have ever had. He honestly cares about you and will give you every option.
He is passionate and so personable. He is just a great guy and dentist...
anyone who needs any work done he is your guy! — Jason K.
Great place to have any dental work done. Dr. Britt is such a nice, caring guy.
Maryanne has been cleaning my teeth since I was a kid. — Kathy G.
Without a doubt, the best dentist in Berea. I cannot recommend Dr. Britt and his friendly staff highly enough. — Ken C.
My family and I love it here! Everyone is so nice and helpful! Dr. Britt is great with my kids!! — Kieya H.
Love, love, love this dentist! Kind, friendly, personable and gentle!
The only dentist to give a Novocaine shot that does not make you cry! — Marie N.
Best dentist I have ever been to! I have always had a fear of the dentist, like many others.
But Dr. Britt is beyond great, a great communicator, funny, makes you feel so at ease.
I NO longer fear the dentist. — Mindi R.